Pattern Imprinted Concrete
What is Pattern Imprinted Concrete?
PIC or Pattern Imprinted Concrete is a fairly modern form of paving between 25-30 years old. PIC is also known as Stamped Concrete or Decorative Concrete. PIC is the process of colouring the concrete while it is still wet then imprinting a pattern or indentations of natural materials such as stone or timber using imprinting tools/mats while the concrete is in it's plastic state. Then sealing the concrete with an acrylic based sealant to give a waterproof, oil resistant and non-slip surface/pavement.
Finally a series of expansion joints are cut into the slab to allow for shrinking and expanding to protect against cracking which can result from shrinking or expanding during the initial curing stage and then from hot and cold climate change, the cuts are filled with a flexible exterior mastic sealant.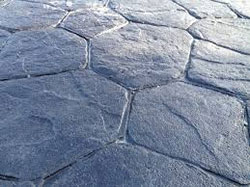 Type of concrete used
The concrete used is not the standard type used for footings of walls or structures. Concrete itself is sufficient to withstand the weight of cars/vans or vehicles but PIC concrete has additives such as reinforcement fibres and air entrainment agents. Reinforcement fibres turn standard concrete into reinforced hardened concrete. The fibres bind the concrete together and strengthen
The concrete in multiples. Fibres improve freeze-thaw resistance, impact resistance, structural strength and resistance to plastic shrinkage during the curing process.
Add real Value & Quality to your Home with a unique Driveway
Fitted by our Team of Specialists